Backdrops
Having some past experience in graphics and computer technology since the early eighties, I've been experimenting with Paint Shop Pro and a free program called Irfanview with photographs from different sources. The big issue with all of this before you start is getting the scale and size right. There are some quick ways to achieve good results and I'll share what I do here, (don't tell me there is a better way to do this etc as in the computer world there is definitely not one way to do things), trust me, if it works for you then its ok!
First when using a program like Paint Shop Pro you need to set the canvas size, (not essential - see below on notes regarding panoramic backdrops), so that when you come to print what you have been developing it will look right and be 'size wise' as I like to call it. One thing is for certain, every image is its own size and when mixing images says buildings and brick walls you want it to work for you and not cause headaches. Here are a couple of images on A4 paper ready to be glued on board to get us started.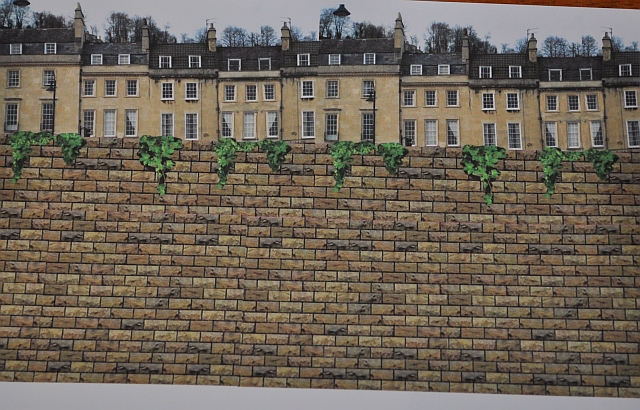 This image started life as three separate images. Houses, brick wall and ivy. They have been brought together using various simple techniques such as cloning, (Irfanview has this in its toolbox).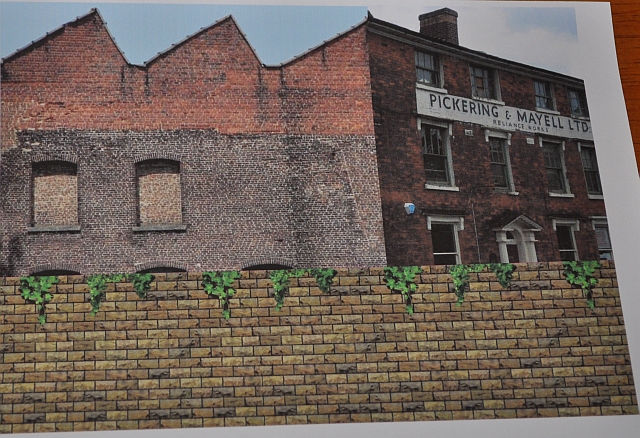 Likewise this one started the same way as separate images. The finished articles are A4 in size and what i will do now is describe how this was achieved. I use repetition, cloning and scaling to achieve the basics, then where joins are inevitable I create buttresses for walls and use drainpipes or trees etc to hide other joins. To create lengthy backdrops its useful to have a program such as Publisher from Microsoft and use its banner option. It will organise A4 sheets in either landscape or portrait for you and print out with slight overlaps the images you need to paste up your backdrop. There is no need to be accurate on measurements as I have found. if the height of your backdrop is less than the height of a landscape A4 piece of paper then I make a brick wall big enough so that it more than covers the area I need, all I do is trim it accordingly. Spend time getting images of brick walls the right size and saving them in a resource folder. likewise houses and buildings etc. Then its a matter of copying and pasting them into the banner making program. Extracting objects such as trees and towers may require you to make their backgrounds transparent. These will then have to be saved as Gifs not jpegs and a more advanced piece of software such as PSP may be required for this. Even if you don't have the software or skills yourself you will probably know someone who has and does!

Below are example of the backdrops I created. Click on them for a larger view.





Using the computer to create a backdrop