Although these books are out of print at the moment they can be obtained from various booksellers. The prices vary so shop carefully. I bought each of mine for less than £20. The details in each of parts 1 and 2 is very useful and the myriad of photos is also helpful in designing and building a model railway based on GWR practice.
Part 1 deals with: Stations and their settings along with some history to help you choose the subject for your model.
Station layouts, Track layouts, Terminus and Through stations, a Smaller terminus for a corner and Minimum space layout, Detail on track construction, Ballast, Switching rods, Ground connections and levers, Buffer stops, Signalling and Token exchange.
The amount of details in photos and drawings is useful if you want to go into depth of construction and in spite of already having a large library on the GWR and lived and grown up in the West country I still saw things new to me. An excellent choice of book!
Part 2 deals with: Buildings, (station buildings, goods sheds, engine sheds, signal boxes)
Footbridges, Sheds and lockups, Cranes, Cattle pens, Water towers and tanks, Fixtures and fittings, Lamps (station and yard), Station fences and gates, Name boards and Notices, Trucks and trolleys, Painting, Traffic operation, Coaching stock and Freight stock.
You can dip into these books over and over again. Includes a nice introduction to signalling which is often left out.
Again the photographs and drawings are very useful and as always provide information that was often new to me. The drawings are often taken from original GWR drawings .
Part 3 deals with: Creating the model, Personal philosophies and the approach to modelling, Designing a layout, Trackwork, Signalling, Building the landscape, Buildings, Detailing, locomotive power coaches and wagons.
If I could ask for anything then it would have to be coloured photographs, but there is a lot of discussion on that theme and the accuracy of colours in old film – but that's another story though and not a criticism of these very useful and informative books!!
New to me in 2015 but in print for the past 7 years or so:
Hornby magazine yearbook No 1
covers planning a layout, reviewing the different gauges, several layouts, top ten layout plans, a review of 2007-8 releases month by month, 10 articles on how to,,, including baseboard building, electrical basics, building plastic kits, card kits, weathering and detailing. and finally DCC explained.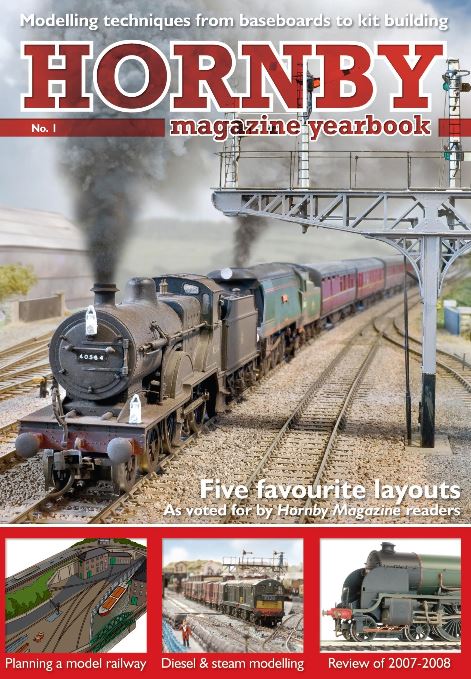 Books 2 to 7 are as good if not better in sharing ideas and layouts, reviewing the market, and not just in 00 but in 'N' and 'O' as well. Along with non Hornby products makes it an even useful collection to have at your fingertips be you a novice or 'expert'. The extra large pictures of layouts is especially welcome and inspires and informs as no text can do. I have them all!