Scalescenes:
Introduction
I intend to build a 4 road double length engine shed and a coaling stage for the Hornby Dublo 3 rail railway I have setup.
First the basic tools required. As shown below: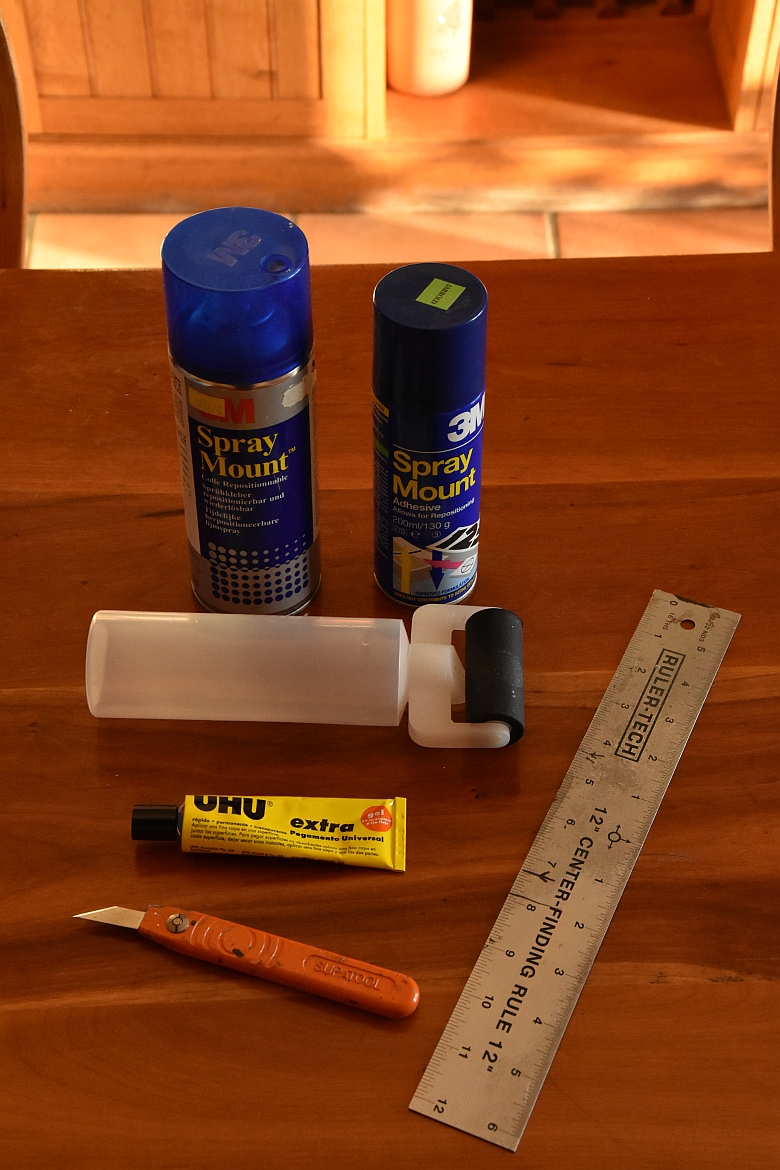 I will be trying out two approaches one using the basic prints with spray mount, then using A4 labels by Niceday available from Viking 100 sheets £16. The paper is thin but white matt as shown below together with the windows printed on OHP transparent paper.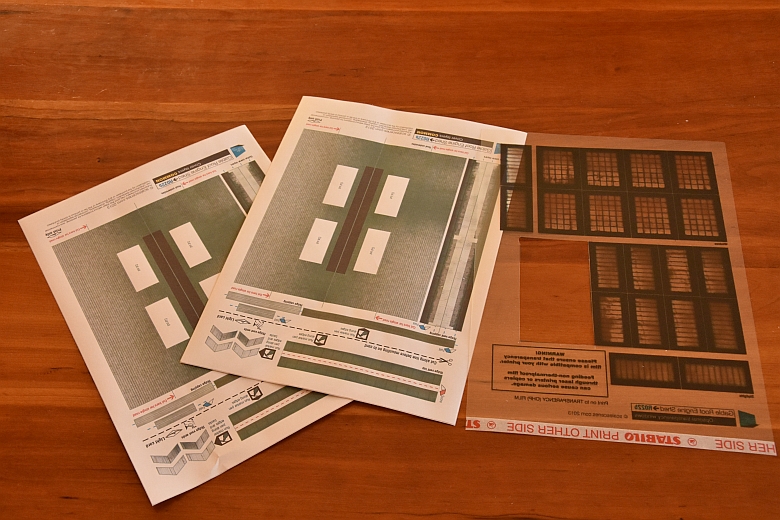 Next the printed sheets:
First you download the printable sheets from their website, (£4.99). You get several sheets of the model and an extensive set of instructions; after that you can print as many as you like for personal use. You also need 2 or 3 thicknesses of good backing card which I ordered from CYD Printing on Ebay, (see below).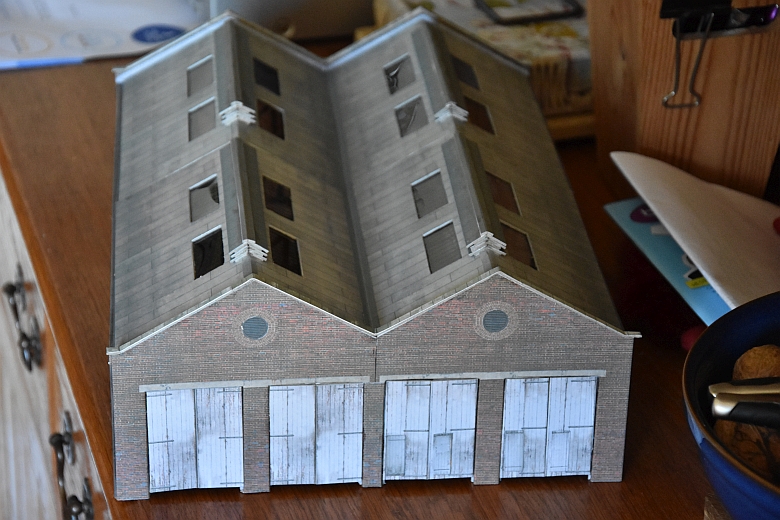 Building the engine shed
Building the models requires a lot of time in cutting and marking out and pacing each section. It has taken several hours over the space of five days to get this far with the engine shed.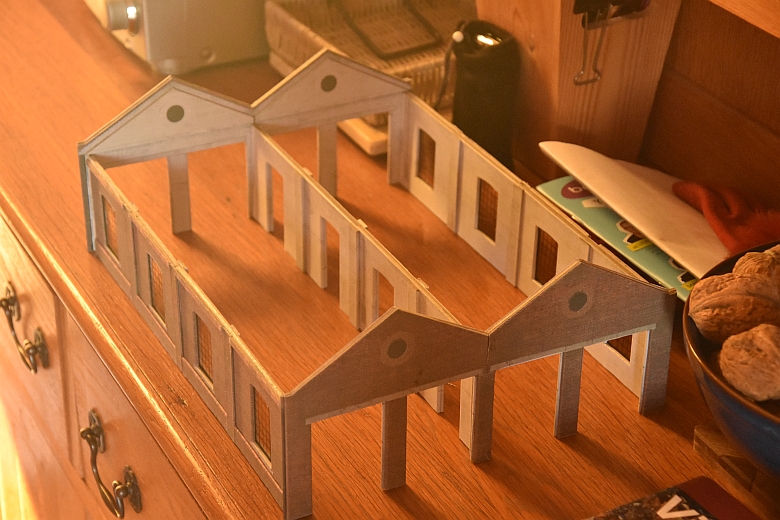 But it makes up into a really sturdy model. As you can print out as many parts and copies of the kit once purchased there are several possibilities as to what you can construct.
Here the roof spars etc have been put together and glued in place ready for the roof.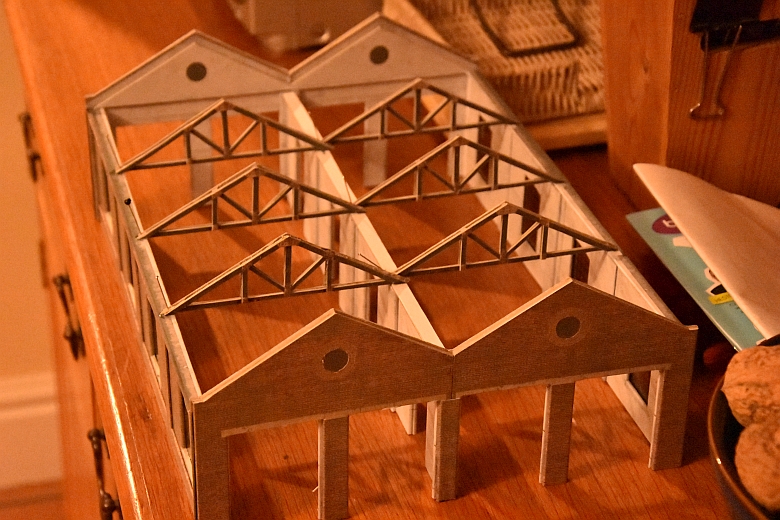 The roof has been fixed in place. the inside sections were reduced in size to leave a small gap which was covered with a roofing strip. Nice to see that the headroom of the shed allows for my Hornby Dublo 3 rail railway to be used with out any additions to the walls!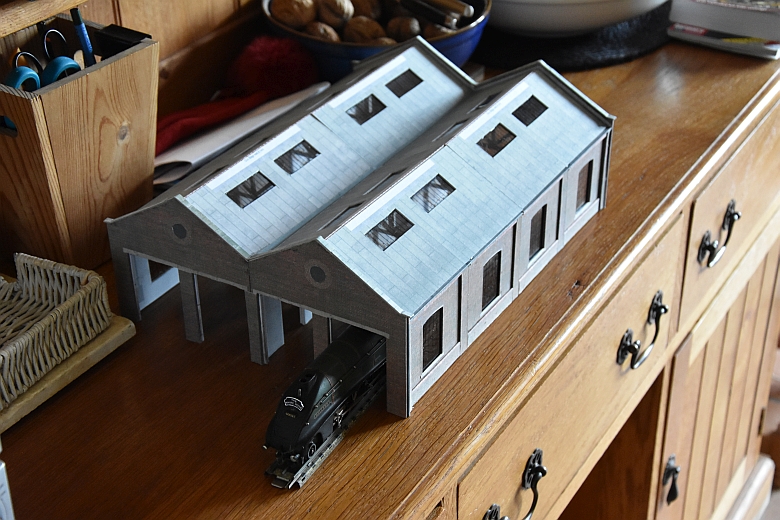 Fitted doors to the rear of the shed but not to the front as shown here:-
The model is well coloured and looks every bit the part. I have also rearranged the sidings to accommodate the new shed and also the coaling stage which is about 6" square. A ramp up to the back of it though might be a difficult challenge in the limited space available!
Building the coaling stage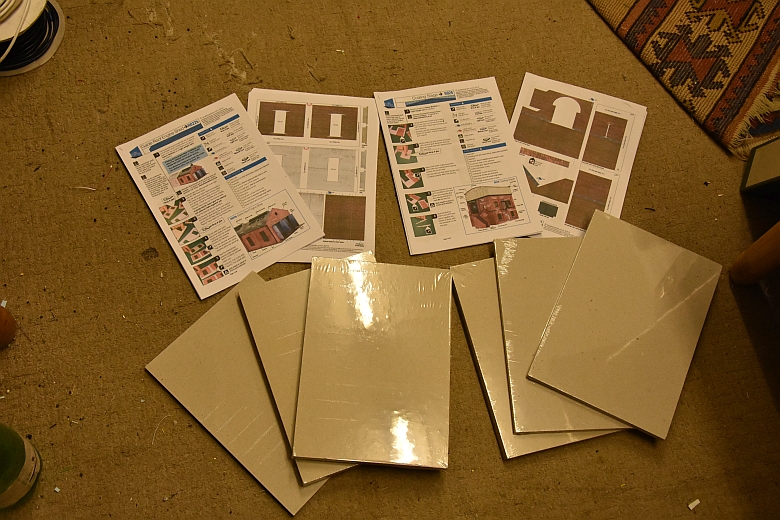 The kit builds into a very sturdy box. The print quality is very good and the detail is excellent. I chose to use A4 label sheets from Viking, (Niceday label sheets), in the printer this time and they worked out very well.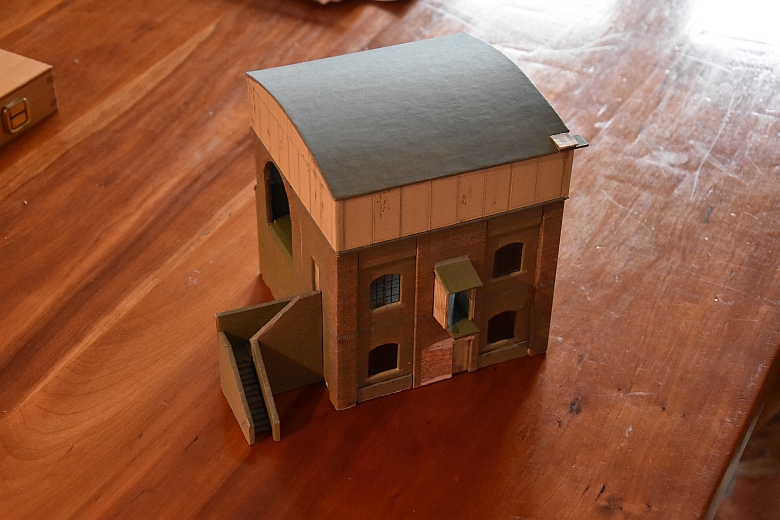 Having previously built one in plaster for the O gauge railway this version is very good. It does not include a ramp though and this I made up from parts of the engine shed. Click on them to enlarge.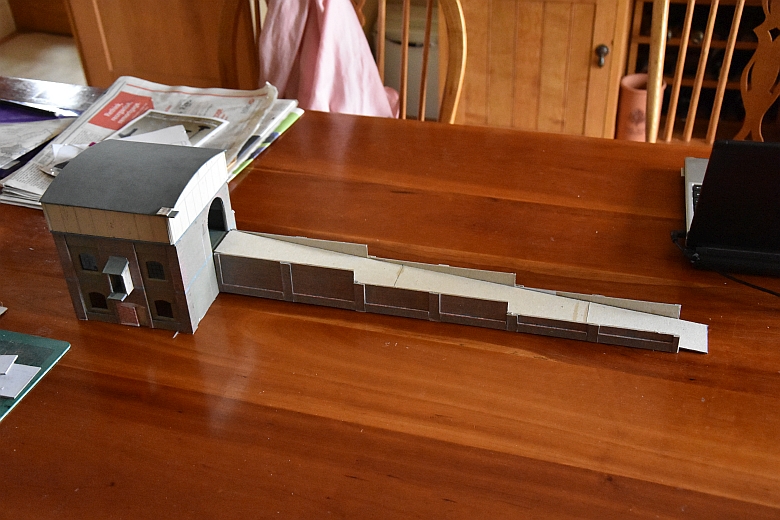 The finished articles in position required a major repositioning of the track.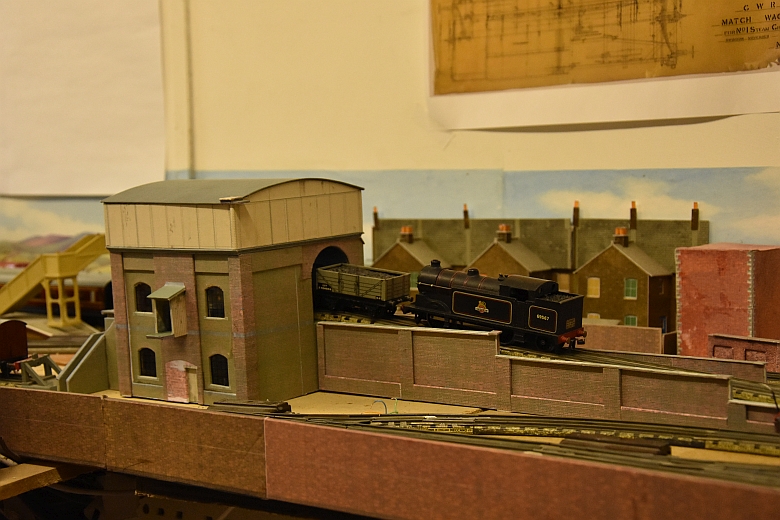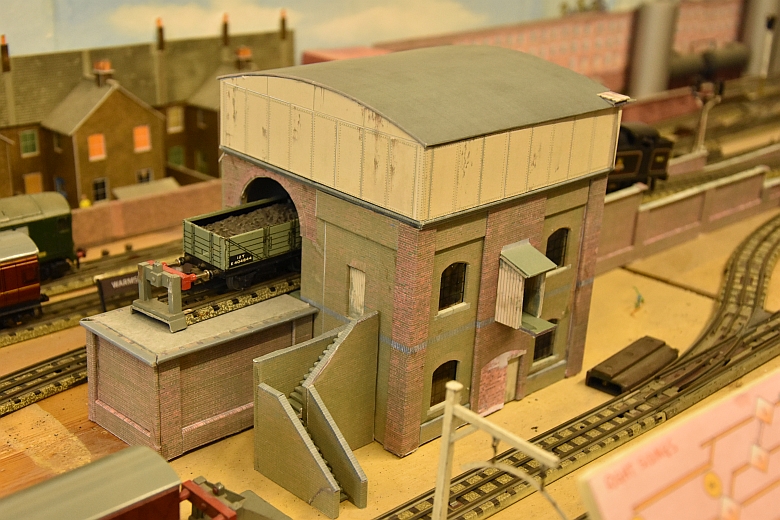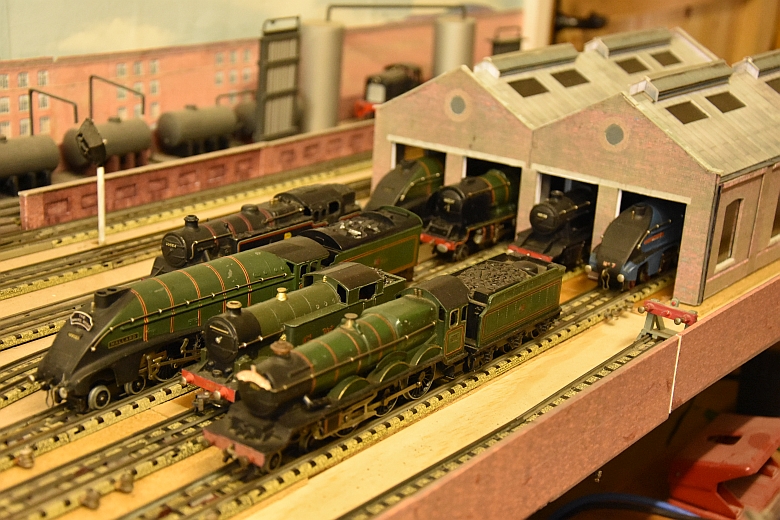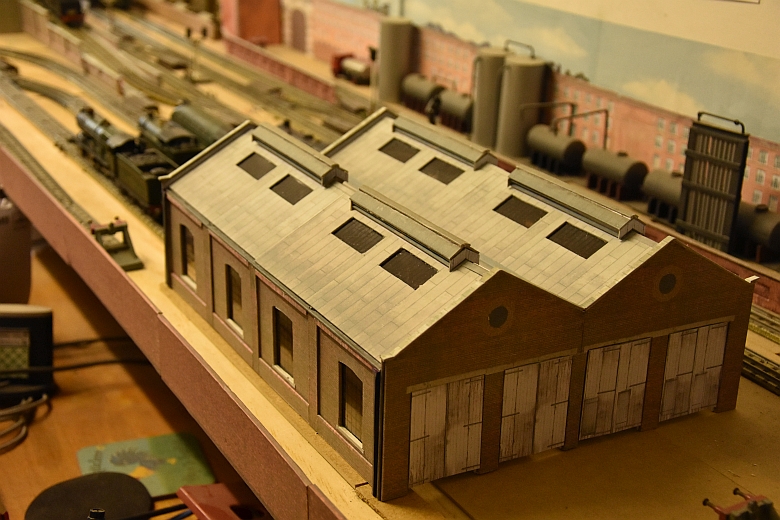 Excellent quality, very sturdy but require a lot of cutting out and gluing but well worth the effort.