Projects for the year 2012
December 2012
Started a collection of Hornby Dublo trains, something I had at age 6 and wanted to revisit. Click here to find out more. A mouse moved in but was removed by railway police!
November 2012
0-6-2 tank is finished and painted. Bought a load of O gauge Hornby clockwork rail stuff - overdid it but its all in aid of Christmas activities! See home page for links and more details
October 2012
Signal control is now being investigated click here to see how this progresses.
The 0-6-2 tank is now nearly finished, (links to that project on the home page or search for 0-6-2).
September 2012
Drivers for the Swan brewery on their way.
A couple of Beer vans now sit on the line.
HMRS transfers arrive to finish off the County of Cardigan. Notoriously rough riders, mine seems to be the exception!
August 2012
Ordered a number of barrels from Ten Commandments which duly arrived and were painted.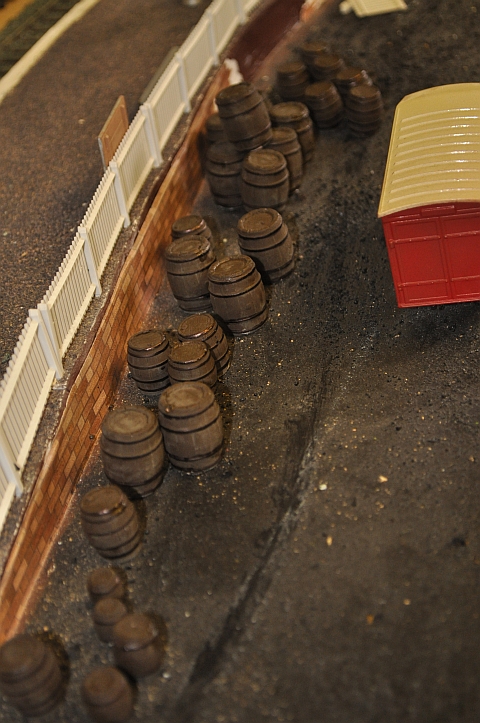 Started to finish the other corner of my layout with a brewery. Click here to see how it developed. Realigned the track and the station rear to accommodate it. Ordered a number of delivery wagons, (four in total) from eBay. The Corgi classics 'Swan brewery' wagons are ideal and with a bit of weathering look the part!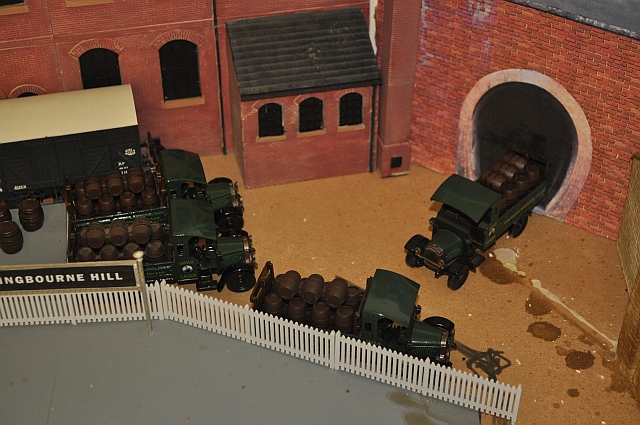 July 2012
Made a start on the industrial loco for the coal mine. A Berkley 0-4-0 will be some time before its completed but the chassis and drive have been begun.
Completed the County loco and the name plates have arrived and been fixed in place, (County of Cardigan). Unfortunately, the Buhler motor is not strong enough to drive it and stalls under light load. So I've had to install an ex Ron Chaplin motor and gearbox, (now sold by MSC Models), which required some butchering of the cab space to get the bottom large gear wheel in. But that is now in place.
June 2012
Started building the County Loco from David Andrews. Any comments re the build of this kit will be about my capabilities and choice of extras and not David's kits as they are one of the best on the market. Click the image below to find out more.
May 2012
A couple of wagons have been completed a tar wagon from Slaters and another tank wagon from meteor models. I have a number of road vehicles coming to complete the traffic into the tar works. Also managed to obtain a fire engine. One of the Signature series of vehicles at 1:43 scale. Some firemen from Pheonix models will finish that off and once the engine has been 'doctored' it will look the part. Its a 1921 Dennis N type as shown here: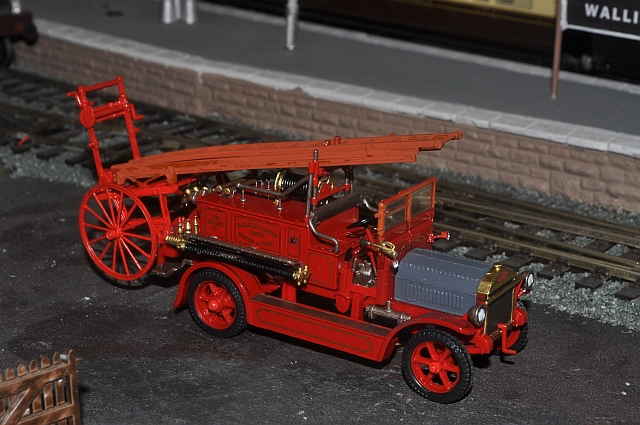 Below is one of the tankers.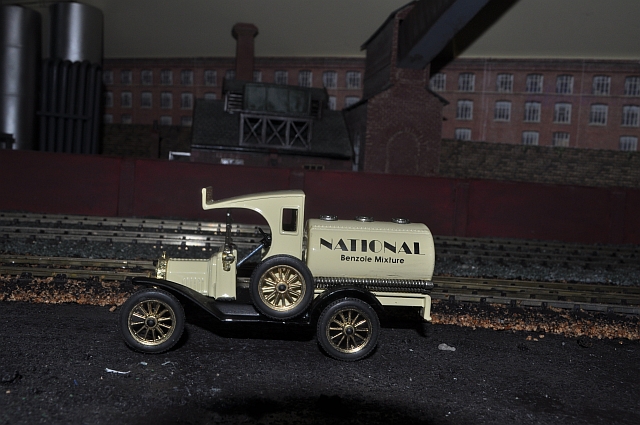 The industrial area is nearly completed. The wall for the gas works is now in place and given first coat. Awaiting the spray cans for weathering. I have discovered that acrylic spray is very fine almost like dust and if used carefully can weather items exceptionally easily. More on this once they arrive. A tank washout unit has been built and is in situ at the other end of the layout to the creamery to give purpose to trundling tankers back and forth on the line. The ammonia separation tanks for the gas works are also here and are in the process of being painted.
Below is the final assembly of the gas works with all in place.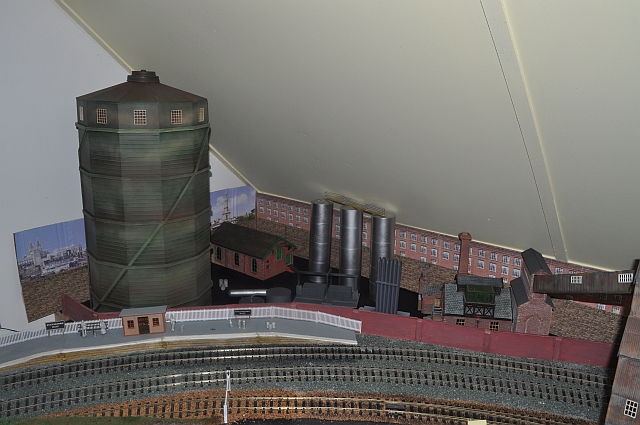 March 2012
The coke works and tar factory are nearly completed but will all have to be removed so that the main line behind can be ballasted and the retaining wall I have just cast be stuck properly in place.

Just completed a tar wagon and tanker for the site but made a mess of the wheel alignment on both - need to be sorted and tar tank from Slaters is a light plastic one that is in need of serious weighting.
The corrugated cladding has arrived for the coke works from Kemilway.
I have a number of items waiting for me at the kettering Spring show:
The walls for the creamery and a couple of tank wagons from Invertrain.
A Berkley 0-4-0 loco kit for the coalmine etc from Mercian
A number of painting sprays and paints for weathering from Squires, (thank goodness they are still in business!).
February 2012
One major part of the layout is devoid of any interest except for a small goods shed and storage sidings. I am to plan a large industrial complex there to straddle both sides of the main line. This may entail moving the halt. Click here to see what I intend to create.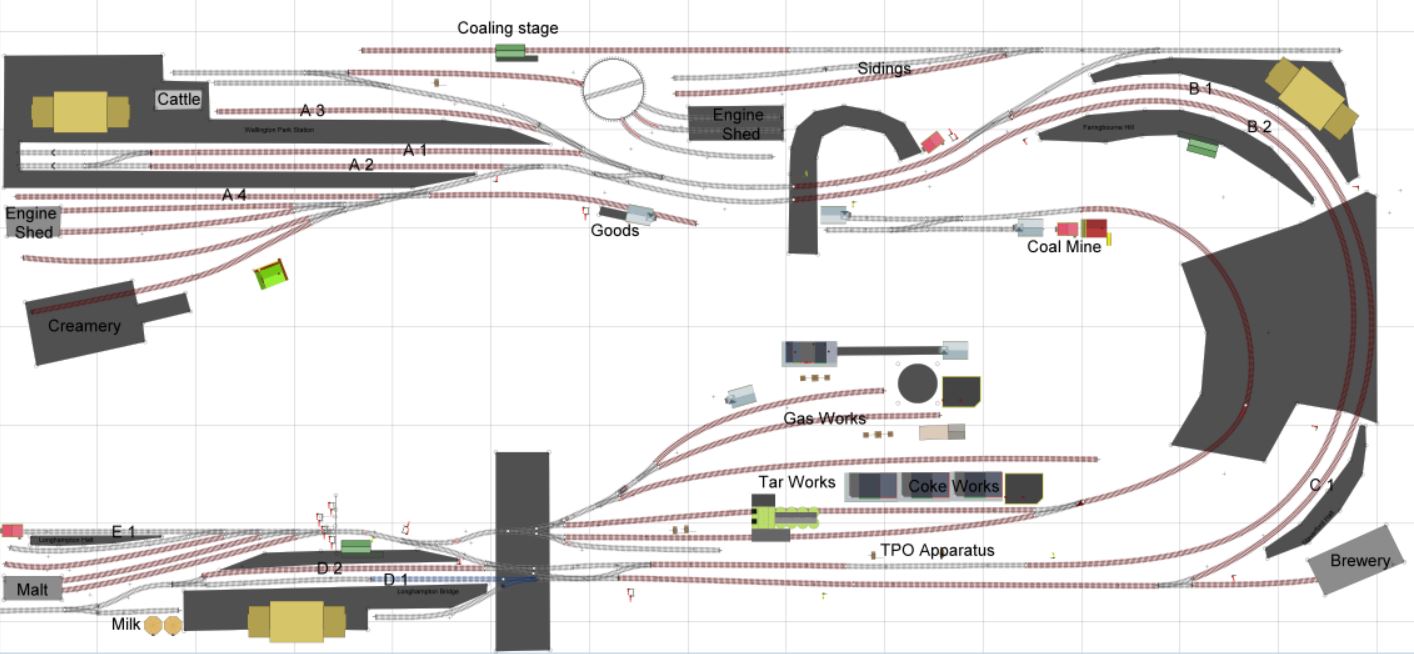 Click on the map above for images taken on my layout. As things develop i will update the pictures.
January 2012
Concentrated on completing the creamery and then the electrics for the turnouts. Installed a new set of switches and upgraded the motors to house micro switches instead of the cheap sliding ones. Two turnouts were giving trouble so one has been replaced. The existing one did not have any wiring so had to be raised and reset, (not a difficult job as the ballast is PVC glued and wetting it makes it manageable again.
A single line token exchange apparatus has now been installed. Click here to see it insitu. Two height gauges are in the workshop.